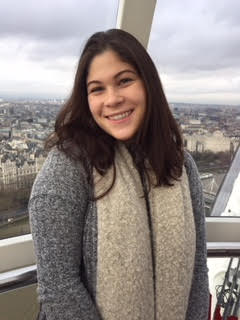 Amanda Hassard, Saint Mary's College of California
Major: Biochemistry Hometown: Benicia, California, USA
Meet Amanda Hassard! Linguistic Horizons is pleased to welcome Amanda into our summer 2018 Nutrition & Natural Medicine in Peru program! Amanda's maternal family comes from Peru and she visited when she was younger. She looks forward to visiting again as an adult to learn more about her roots! She looks forward to gaining a new perspective of nutrition and medicine.
What are your future career goals?
My future goal is to go into a PhD program from either biochemistry or molecular biology. From there, I plan to become a professor.
What organizations are you involved in on campus?
On campus, I do independent research with my professor. We research how to properly culture coral cells to treat the coral with different pathogens like viruses that can be causing coral bleaching in the reefs. I am also the vice president of the Red Cross club where we help organize the blood drive on campus and help our community on campus be prepared in case of any crisis. I am also a tutor in our STEM center on campus and also am a mentor for minority and low income first year students who are science majors.
What motivated you to choose Peru?
I chose Peru because my grandpa is from Lima and I have a lot of family there. I visited when I was 10 years old, but I've been itching to go back ever since I've gotten older to experience the culture and learn more about where my family comes from.
What is your favorite quote?
My favorite quote is "A dream you dream alone is only a dream. A dream you dream together is reality" -John Lennon
What is your proudest accomplishment?
My proudest accomplishment was going through the Saint Mary's Summer Research program where I did research for 10 weeks then had to present my findings to a large scientific audience. I consider myself a shy person and it was really hard for me to build up the confidence to give my talk, but it gave me a lot of confidence in myself!