Alumni Interview
Grant Shillington is a Linguistics & French double major at Washington Unviersity in St. Louis! During the summer of 2016, he participated in the Linguistic Horizons Summer Spanish Immersion Study Abroad program!
Tell us about you! I am a rising senior at Washington University in St. Louis double-majoring in Linguistics and French. At Wash U, I conduct research in speech and hearing, as well as in the syntax of American English.
I am involved in St. Louis' Lutheran Campus Ministry, a community that has touched me in so many ways in my first three years at Wash U. I am also a member of Circle K, a volunteer chapter of Kiwanis at Wash U.
In my spare time I enjoy cooking, pool (the billiards kind), exploring St. Louis, or whichever city I call home, spending time with my friends and family, and playing with my two little dogs.
What is your favorite memory from your time abroad? It was the 4th of July, and the three of us in the program – Matt, Michael, and I – wanted to celebrate. I went to the grocery store to buy some hot dogs, which were not as hard to find in Spain as you might think, and went home to cook. At the time, there were three people living in the apartment, apart from myself. Ruffo was a surfer working in La Coruña, Joni was an Erasmus student lingering as long as he could before his studies drew him home, and Ash, who was studying to work in management of sea ports. As it happened, Ash was leaving for a new job in Pontevedra the next day, so for him, that 4th of July was also a going-away party. What set out as a 4th of July party turned into a wonderful gathering of new friends from around the world to celebrate each other's company. Totally by accident, we ended up having a feast of food from all of our respective countries. We made hot dogs, Ash made chicken curry, and Joni made some sort of soup that was typical of his hometown. I think this memory sums up my experience abroad. Sure, I experienced Spain and La Coruña, but I also made friends with people from all over the world.
What advice would you give future Linguistic Horizons students? In Spanish, there's a word, aprovechar, which means to enjoy something to the fullest, as if it were a delicious meal. French has a similar concept: profiter, which means to take advantage of, but in a way that benefits everyone. I think if we had a word in English that got at this idea of taking every opportunity to appreciate the world, going abroad would be much easier. That said, aprovechad. Take every opportunity to experience Spain (or Peru, or wherever else). Say yes to something you might not have said yes to at home. For example, I had never tutored someone before, since the teaching one-on-one aspect of it made me nervous. In Spain, I had the chance to meet a high school kid who wanted to practice his English before spending a year in America. At home I might have turned him down, but in Spain, I saw it as a rare opportunity. Not only did I get to meet and become friends with a Spaniard, but I think we also learned a lot from each other. That's why I say you need to take every chance to enjoy your time abroad, and try to do things you might not normally do. It's worth it, and you'll probably make friends along the way.
How did your experience abroad impact your life? In a concrete way, studying abroad has made me more open to the idea of working abroad in the future. I previously studied abroad in France, and my time in La Coruña helped me to decide that I wanted to spend time working abroad. In a broader way I think my time in La Coruña helped me to broaden my view of the world. I had enough freedom thanks to Linguistic Horizons to explore La Coruña and to get to know people. The classes were also very helpful to constantly practice and improve my Spanish, another one of my major goals while I was in Spain.
How was your Spanish when you started the program versus when you left? I had studied Spanish for many years since middle school, but by the time I arrived in Spain, I had not used it in over four years. I was hesitant, and not quite conversational when I arrived. Thanks to immersion along with flexible and effective teaching, I was able to regain enough confidence to converse in almost any context. I was very grateful for the chance to see the improvement that I did.
Anything else you'd like to share? This was not just an enriching experience. It was also a lot of fun. Coruña is an amazing little city with friendly people, delicious food, beautiful beaches, great shopping, dazzling sunsets…the list goes on and on. The day trips we took were very interesting as well. Finisterre is possibly the most beautiful place I have ever seen, not to mention its historical and cultural significance (it was believed to be the end of the world in Galician tradition). I fell in love with Coruña and Galicia, and I think anyone who gives it a chance will love it too.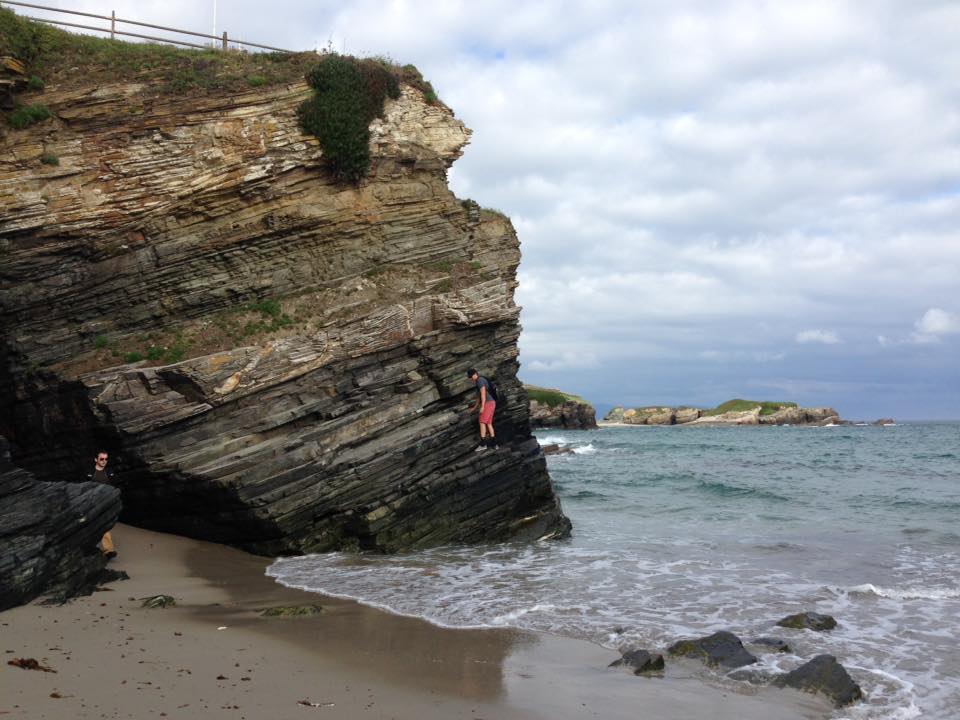 Request more info about opportunities to go abroad! Information about the Summer Study in Spain program!
Read more alumni interviews!